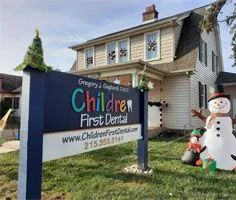 As a licensed pediatric dentist in Richboro, PA we work with our patients so they can achieve and maintain a beautiful smile and healthier gums and teeth. We take the time with our patients to explain their treatment options and inform them of additional preventative care. We feel this will lead to a more trusting doctor/patient relationship and, for many people, relieve the stress about seeing a dentist.
Is there anything more precious than your child's smile?
At Children First Dental, your child's oral care today is the foundation for a lifetime of healthy attractive smiles.
At Children First Dental, we believe:
That each child deserves a healthy smile
That every visit to the dentist should be a positive experience
That lifelong habits of oral care are formed by early impressions
That a child should see everyone involved with their dental care as kind and nurturing
That parents are better participants in their child's dentistry through proper communication and that your child's smile is as special to us as it is to you
Children First Dental provides an environment that is arranged specifically for the dental care of infants, children, adolescents and persons with special health care needs.
We take pride in providing you with a comfortable office experience where our qualified staff is friendly and knowledgeable. Our main office is conveniently located in Richboro, PA and we invite you to call with any questions or email us via the contact us or request an appointment page of our Web site. We will do everything possible to ensure you a pleasant visit.
Hospital-Based Dentistry
When your child requires extensive dental care, we offer the option of hospital-based dentistry. Dr Gagliardi is on staff at Abington Memorial Hospital, St Christopher's Hospital for Children and Holy Redeemer Hospital. When patients have specific needs, or if they have a multitude of care to be completed, hospital-based dentistry can be used to provide safe, effective dental care in an outpatient setting.
Special Needs
Does your child have special needs or a specific allergy that we need to be aware of? Our office can assist in providing the dental care your child's needs in a gluten-free, latex-free, allergy-aware office. Dr Gagliardi has 30+ years of training and experience caring for children and young adults with special needs including Autism, ASD and brain injuries.
In the Community
Dedicated to the Bucks County Community, our office participates in Toys for Tots, Northampton Days festivals, and we are proud to support our local students. Our reading program in local schools brings dental care to young children outside of the dental office in an entertaining environment.
Appointments
We know you have many choices when choosing a pediatric dentist in Richboro, PA, so we have made requesting an appointment a simple process via our website. If, for any reason you cannot keep a scheduled appointment, or will be delayed, please call us as soon as possible. We encourage our patients to set their 6 month checkups in advance. We offer 24-hour emergency care.